I channel Spirit using watercolor, inks, acrylics and colored pencils in a 4″x6″ format.
The art carries visual energy that can't be assimilated any other way. See examples below.
I approach this type of channeling the same way I read tarot. I work in a sacred spot surrounded by love and protection. This allows me to bring through energies that can't be delivered during a spoken reading.
Spirit is in charge, so each piece is different and I cannot take requests for particular images or colors. You receive what spirit knows your subconscious understands.
Once you view your art, the image is always available to you.
Here are some examples: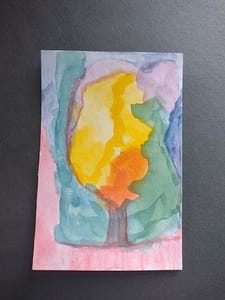 Details About Channeled Art
Your art is created on Fridays and is typically mailed USPS First Class the following week.
At the moment, I work in a small format of 4″ by 6″ on watercolor paper. Small images with a mighty presence!
Channeled art makes a wonderful gift for yourself or a friend.